About this site
Hi there,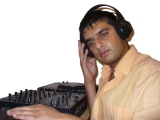 My name is Etch and I've finally decided to learn how to DJ. I' ve been a huge fan of trance music since 1999 which was an amazing year for the genre. Since then I've wanted to make some mixes myself that would take people to another level. Recently I decided to just do it and got myself some CDJs and a mixer.
What is this site about?
The purpose of this site is to keep a log of my journey and hopefully help others who are learning to mix. I've looked around the internet for lessons and video tutorials. There is a lot of information out there, however, I can't seem to find what I'm looking for. For example, beat matching is discussed intensely, yet the topic of where to perform the mix in dance tracks isn't and this is crucial to get right if I want to make my trance mixes sound special. By following me along, you can witness the stumbling blocks and learning curves as they happen and see how I resolve them to move forward.
The posts will have useful information on the discussed topic along with images and a video to help explain things further. .
The videos I'll be adding will allow you to hear how I'm progressing. Eventually I will add mixes so you can hear my creations.
Ok, let's get started
You can view my latest post on the right or you can browse through all of my posts via the navigation, starting with the introduction where I introduce myself and talk about some concepts.
Let's begin the journey as the mixing guide transforms us from amateur to professional.